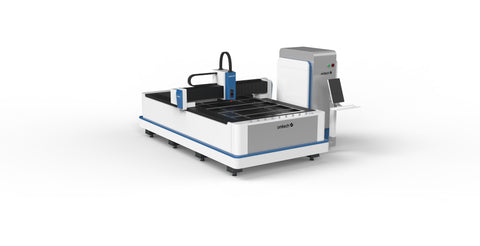 OMTech FC Series Laser Cutter Description
This industrial strength 1000–3000W industrial fiber laser cutter from OMTech will let you cut all your designs with pinpoint precision and lightning speed through carbon and stainless steel, brass, aluminum, copper, and most other metals. The aircraft-grade aluminum gantry, shock-resistant workbed, automatic height adjustment & focusing, and automatic debris collection ensure you'll meet and exceed all your sheet metal needs from signs to auto parts, kitchenware to custom machinery.
Why Choose OMTech FC?
Features of Industrial Fiber Laser Metal Cutting Machine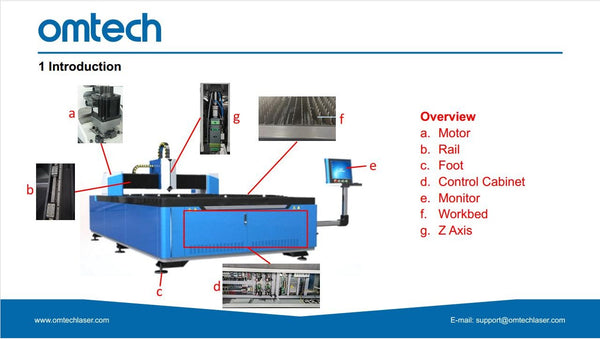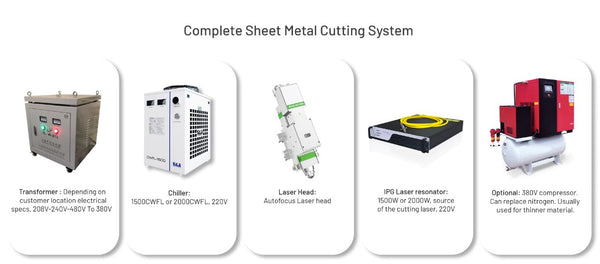 Durable 3000×1500mm Workbed
Our massive workbed's frame is made of XXX beam-welded supports, able to hold metal sheets up to XX lb. and withstand years of commercial scale use.
Rugged Aluminum Gantry
The aircraft-grade aluminum gantry will provide perfect work time after time thanks to its strength, light weight, and high resistance to wear and corrosion.
Solid State Laser
Cut through sheet metal up to XX" thick with this NIR ytterbium doped fiber laser, easily handling smooth & delicate edging with its XXX nm wavelength and XXX μm spot size.
FC Fiber Laser Cutter Specifications
Work Area: 9.8 × 4.9 ft. (3000 × 1500 mm)
Required Power Supply: XXV XX Phase XXA
Laser Power: 1000W/2000W/3000W
Max. Speed: 197 ft./sec. (3600 m/min.)
Max. Acceleration: 0.4G
Positioning Accuracy: 0.002 in. (±0.05 mm)
Repositioning Accuracy: 0.0008 in. (±0.02 mm)
Compatible Materials: Carbon Steel, Stainless Steel, Brass, Aluminum, Copper, Gold, Silver, Titanium, ???
OMTech is proud to present our first kilowatt strength fiber laser engraver, custom designed for ultrafast and ultraexact industrial metalwork.
Cutting Capabilities: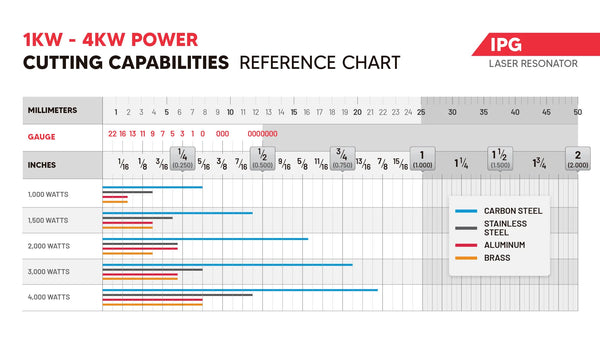 What benefit you can get from OMTech Laser Cutter
Saves money—the Titan consumes less than 5% of the power required by conventional C02 laser systems
Cuts highly-reflective metal
Direct Drive Motion System—the cutting head moves with the highest possible acceleration and smoothness, reducing stress and vibration on the carriage frame and lowering maintenance requirements.
Integrated laser and cooling system, only requiring a single connection point for electricity, air, and factory water
Adaptive thick-to-thin beam shaping adjusts dynamically to metal thickness
Maintenance-free requires no consumables
Upgrade your Titan laser wattage in the field
Industrial-grade reliability: 100,000 hours MTBF
Reduced installation costs, no need to pour concrete
Software-controlled orthogonality, calibrated to the user's specifications
Adaptive thick-to-thin beam shaping adjusts dynamically to metal thickness